Harley-Davidson to add tsunami bike to its Museum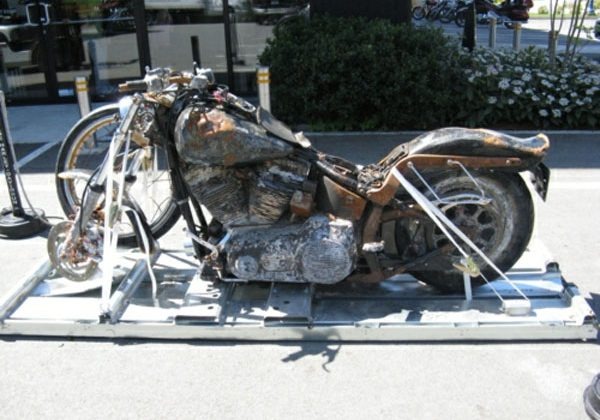 The tragic tsunami that hit Japan and claimed thousands of lives and leveled much of a small Japanese city in March 2011 has some in Japan still fighting to recover. Many of the belongings of people in the devastated coastal areas drifted out to sea when the waters of the tsunami receded. One of the more amazing things to have been discovered after the tsunami was a 2004 Harley-Davidson FXSTB Softail Night Train motorcycle.
Amazingly, the battered and rusted motorcycle was recovered on the shore of Graham Island in British Columbia. The bike was discovered on the beach by a Canadian named Peter Mark along with several other items stashed inside the remains of an insulated cargo van container. This is where motorcycles owner, Ikuo Yokoyama, stored the motorcycle.
Harley-Davidson offered to return the motorcycle to the owner, but the owner declined. Instead, Yokoyama asked Harley-Davidson to add the beaten and battered motorcycle to its museum as a monument to the people who lost their lives during the tsunami. The motorcycle is still currently in Canada, but preparations are being made to transfer the motorcycle to the Harley-Davidson Museum in Milwaukee Wisconsin.
"It is truly amazing that my Harley-Davidson motorcycle was recovered in Canada after drifting for more than a year," said Yokoyama. "I would like to take this opportunity to express my heartfelt appreciation to Peter Mark, the finder of my motorcycle. Due to circumstances caused by the disaster, I have been so far unable to visit him in Canada to convey my gratitude."