Hard case for iPhone features a tether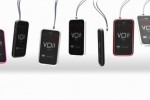 I want to protect my iPhone from drops and breakage so I keep it inside a hard case. At the same time, the case I use wasn't exactly cheap and I want it to keep looking good too. What do you do in this instance; get a case for your case?
A company called VOi! has announced a new case called the VOi! Lorem that offers hard shell protection for the iPhone 3G and 3GS. The case also offers a tether to keep the case attached to your hand to prevent drops.
An accent ring on the case can be mixed and matched to go better with whatever you are wearing that day. The case is a precision form-fit device designed to add minimal bulk to the iPhone. The liner of the case uses what the company calls Embrace Technology to soften any impacts and hopefully prevent the case from scratching your phone. The case can be purchased now for $24.95 with optional screen protection for $5.95.