Hands On with iPhone 2.0 - new changes abound like Spring cleaning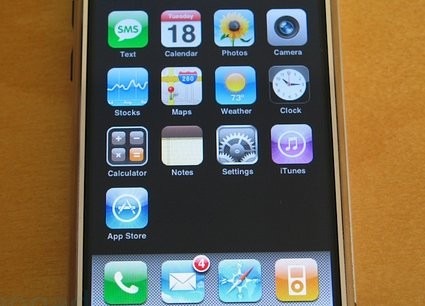 Engadget has gotten their hands on iPhone firmware version 2.0. Some of the new features include a scientific calculator when you turn your iPhone sideways with the calculator open and the previously announced Exchange support is as smooth as it should be.
There isn't a contacts search function, although they proposed that it might be because they don't have too terribly many contacts, so it might require a contact least of more length for that feature to kick in. There is also no two pane mail client (mail list in one, message in the other).
The app store was there though, even though all it did was error code out saying that it couldn't connect. There were also a couple of button icon changes, including the calculator button and the iTunes Store button. Other than that, nothing really important to see here, I'm just really, really hoping that Firmware 2.0 lands on Hardware 2.0 with a new shiny 3G chipset, I know other users are pushing for a whole list of other new hardware features, and those would be nice, but just a new 3G chipset would make me happy.
[via TUAW]