Hand Crank Locomotives are the best gift ever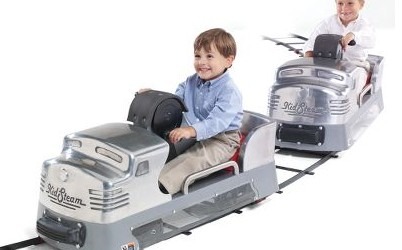 I'm sure many people wanted toy train sets when they were a kid. But one that you can actually ride in? Well, that sort of luxury was reserved for Ricky Schroeder on Silver Spoons. Oh yeah. I made a Silver Spoons reference.
These Hand Crank Locomotives are a serious gift for the kid that gets everything. It's made from cast aluminum and has cast-iron wheels. The wheels then move right along the track, which is 30-feet in diameter. That's pretty huge!
And in case you had visions of a weary parent hand cranking the thing off to the side somewhere, don't worry. The kids can move the train themselves. It's completely self-powered. The set includes two trains and the track. Pretty cool gift, but it costs $4,100, plus $500 for shipping. And then there's the space issue. And then there's the question of what to do with the thing once your kid passes the 100 lbs mark.