Halo 5 Collector's Edition Leaked: Huge And Expensive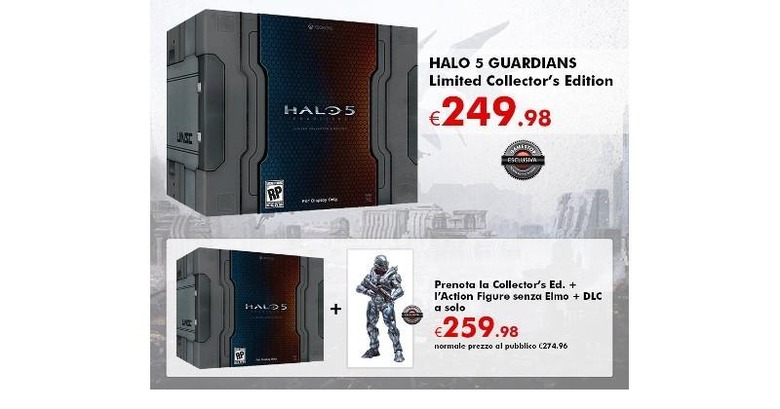 It's still a good five months away before we start to #HuntTheTruth, but it seems that Halo fans will have something more to get excited about before that day comes. It's already expected that Halo 5: Guardians will have a limited Collection Edition set, but, thanks to Gamestop Italy, the public is now privy to what treasures that box hides inside. Aside from the Limited Edition of the Halo 5 game itself, it seems that the CE will also come with a large statue as well.
Bungie and Microsoft Studios have started teasing the latest installment of the Halo series last March, in a pair of video clips that would seem to imply that the once glorious hero that is Master Chief could very well turn out to be this game's antagonist. Or at least that's what they want you to believe. The truth isn't always what it seems, so it could very well be smoke and mirrors to entertain and distract us.
Could the same be said of this early preview of the limited edition box? Who knows, but Gamestop seems pretty confident about it, enough to put a price tag on it. While the Limited Edition of the game itself would retail for around $100, the Collector's Edition is naturally more than that, at around $250.
The game itself is described to come with a DLC that will "increase the combat capability" of the Spartan. Meaning some exclusive weapons and armors, most likely. The statue, on the other hand, will be coming from 343 Industries. From the size of the box, we're hoping there might be other goodies as well, but Gamestop is being mum about those.
Halo 5: Guardians is set to launch October 27, but with this now out in the open, there might be an official announcement of this Collector's Edition soon, probably at E3 in June.
VIA: Gamestop.it