Halo 4 map pack release dates reportedly outed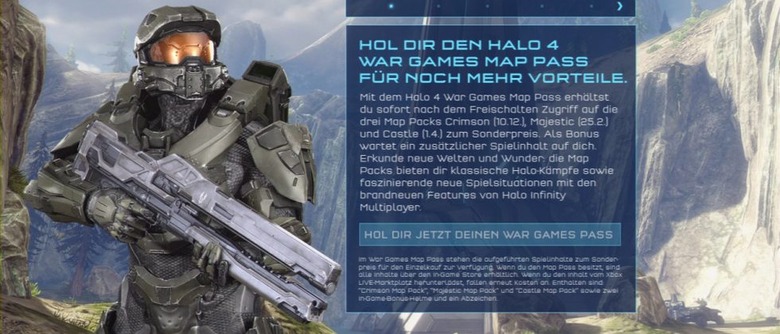 When it comes to Halo 4 DLC, we already know quite a bit. We know that Microsoft and 343 Industries are planning three separate map packs named Crimson, Majestic, and Castle. We also know that the companies are offering a War Games Map Pass for 2,000 MSP, which means that opting for the Map Pass will save you 15% over buying each map pack individually. What we didn't know, however, is when these map packs would be releasing.
That may have just changed, as a new screenshot from the German Xbox 360 Dashboard apparently lists the release dates for all three map packs. Originally posted over at Halo Council, this screenshot says gives Crimson, Majestic, and Castle release dates of December 10, February 25, and April 1 respectively. If this is true, it means that the first Halo 4 map pack DLC is a mere two weeks away.
We wouldn't be surprised at all if this is true, but the fact that Castle has a listed release date of April 1 makes this whole thing a little suspicious. April 1, as many of you know, is the worldwide day of pranks, so it's possible that Microsoft and 343 Industries are having a little fun at the expense of players. In any case, with no official word from Microsoft, it's hard to say with any certainty that this is legitimate.
If these dates are the real deal and Crimson's release is really just two weeks away, then we should be getting confirmation from Microsoft and 343 any day now. While we're hesitant to believe that these are the official release dates, it's worth pointing out that Microsoft said the three map packs would be releasing in December, February, and April when they were all announced, so that lends some credibility to this rumor. Stay tuned.
[via Kotaku]