Halo 4 gamers get reward points for 140+ hours of game play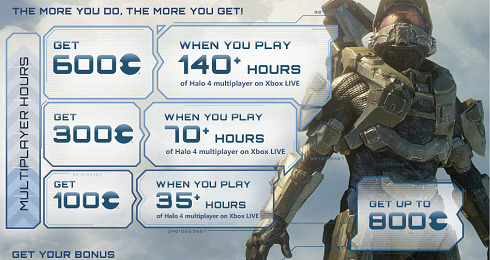 The much-anticipated release of Halo 4 was met with overloaded servers and much fanfare. No doubt many players are already holed up, playing for hours on end, and enjoying every moment of it. Now those players can reap some rewards for the hours they invest in the game, with Microsoft offering reward points for 35 and 70 hours of game play, respectively.
Via Xbox Live Rewards, players who hit the 35 hour mark in Halo 4 will score a cool 100MS, while those who hit 70 hours will receive 300MS. The folks over at Computer and Video Games did some calculating, and figured that if you play Halo 4 for six hours a day, every day, for the rest of the month, you can hit the 600MS points mark.
Players can earn a maximum of 800MS through this rewards program. Obviously, you need to be signed up for Xbox Live Rewards, which you can do over at the Xbox website. To sign up, hit up the Xbox Rewards website and click "Join." Log in with your Windows Live email, then select "I want to participate in the Xbox LIVE Rewards program."
In order to signup for LIVE Rewards, you need an Xbox LIVE account. You can join Xbox LIVE for $5 a month for a Gold account, or $8.33 a month for the Family Pack. Haven't grabbed a copy of Halo 4 yet? You can get it from the Microsoft Store for $59.99. Users must get in on this offer by November 30, otherwise they're miss out on a chance to get points for doing what it is they're doing any way.
[via Computer and Video Games]