Half-Life 2 city scanner drone actually flies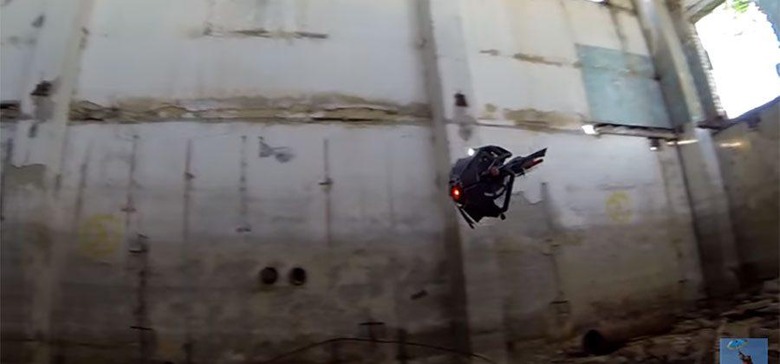 One of the coolest video game franchises that we haven't seen in ages is Half-Life. Many a gamer will have fond memories of spending tons of time playing the original Half-Life and the second game in the franchise, Half-Life 2. One of the things that anyone will remember from Half-Life 2 are the flying City Scanner drones that would find you and shine their light in your face until you shot them down or smashed them with your trusty crowbar.
A geek on YouTube called Valplushka has taken it on himself to create a very realistic City Scanner Drone that actually flies. The result of his time and effort looks exactly like the drone from the video game to the point that I feel a need to smash it with a crowbar. The builder claims to have made the entire works from scratch and it measures 80cm L x 55cm H. It uses a frame made from 15 x 15mm carbon fiber and many of the parts are made from expanded polystyrene.
The flight controller is a DJI NAZA-M Lite without GPS and the motors used are AX-2810Q-750KV Brushless Quad copter motors. The builder says that the drone can fly for 11 minutes per charge of the 3300 mAh internal battery. The drone did initially have the flashlight shining out the front like the drone in the game, but it burned out. The builder says he plans to fix this soon.
The builder also says that he plans to install a video camera that can transmit. The video of the drone in flight makes the creation look like it just levitates right in the air just like in the video game. The four little flaps around the glowing red eye in front even move just like in the game.