Haleron Swordfish Net 102 Dual netbook available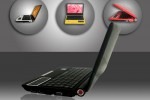 I have often lamented the fact that most of the netbooks on the market are mere carbon copies of each other. The machines offer the same internal components and features for the most part and once you use one, the other netbooks are pretty much the same. Haleron has a netbook called the Swordfish Net 102 Dual that is not more of the same.
The big difference between the Swordfish Dual netbook is that the Swordfish has dual Intel Atom N270 processors inside. I shudder to think that what will do to the battery life of the machine with only a 3-cell battery inside.
Still, if you don't travel that often and just want a powerful machine that takes up little space this might be perfect for you. Other features include 2GB of RAM, 160GB HDD, 1.3MP webcam, Bluetooth, Wi-Fi and built-in 2G modem. The screen is the typical 10.2-inch 1024 x 600 netbook fare. The machine is available now for $449.