Hackulous Unveils "Reverse BitTorrent" For Sharing Apps With Jailbreak Community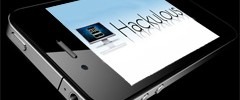 Those that use jailbroken iPhones and other Apple devices are able to get software from places other than the App Store. One of the places that many of the jailbreak users go for software is the Hackulous community. Hackulous admin Dissident has announced that new innovations have been added to the software used at Hackulous.
The Clutch app has been updated, which is software that allows the cracking of iOS software and the GUI for the app Crackulous has been updated too. Hackulous also has a new piece of software for uploading apps to the pirate store called Mobile Hunt. Mobile Hunt will tell the user when it sees an app not on the pirate app store and prompt them to start a background upload.
Mobile Hunt is described as a reverse BitTorrent where it takes a tiny piece of the app from the users device, uploads it to the cloud and then combines that tiny bit with tiny bits from other users to recreate the complete and working app. Hackulous also says that it has a hack app ready for the Mac App Store too. However, it will not launch the Mac App Store hack until the app store has enough "crap" apps in it to make a hack store useful for trialing apps. The developers reckon to start with all of the apps in the app store for Macs will be good and crap apps will come later.
Via Torrent Freak