HacBook Elite is an OS X laptop with upgradable hardware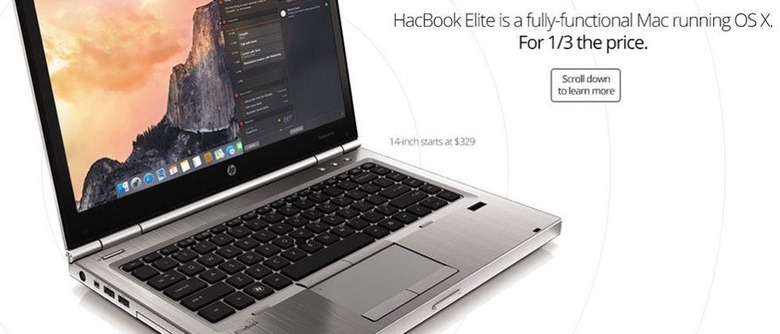 If you have ever wanted to own a MacBook but can't bring yourself to drop the kind of money Apple wants for its notebooks, here is your chance to own a Mac OS X machine on the very cheap. This will likely be a very short chance too, Apple will beat the HP out of this company with a hammer in short order. We have seen it before so get your wallet out and order expedited shipping. The machine is called the HacBook Elite and it started life as an HP notebook before having OS X installed to make a fully upgradable Mac computer.
The company says that the notebook can boot in 15 seconds and it has hardware inside on par with an entry-level MacBook. One notable specification not up to par with an entry-level Mac is the display; this HacBook Elite has no Retina display. The upside is that the machine is fully upgradable just like any Windows notebook would be.
Specifications include a Sandy Bridge Intel i5 processor, up to 8GB of RAM, and a 14-inch HD resolution screen with native resolution of 1600 x 900. Storage is up to 1TB via HDD/SSD and the machine has WiFi integrated. The maker of the notebook says that the machine doesn't emulate and isn't simply a skin, it's real OS X. You can dual boot with Windows if you want and the machine supports iTunes, iMessage, and App Store.
You can customize the hardware inside the machine if you want. The maker's website has no build-your own function but you can email them to customize the specifications. Apple has never tolerated a company who tries to make notebooks that run OS X and you can bet this company won't be tolerated either. The HacBook Elite sells for $329 for a entry-level version, at least until the cease and desist letter arrives. I'm not sure why this company thinks it will fare any better than Psystar did back in 2012.
SOURCE: HacBook