Gynormous Kno Dual Screen And Single Screen Tablets Ship Today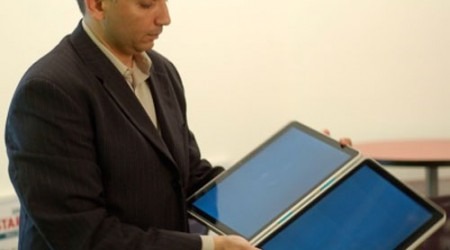 Tablets are really hot right now with the iPad having the vast majority of the market. The device has taken a big bite out of notebook sells according to some analysts. There are other tablets on the market though with notables like the Galaxy Tab and others. A new choice in the tablet market is shipping today with the single and dual screen version of the Kno tablet heading to buyers.
The gigantic dual-screen Kno is aimed at students and sells for about $900. The idea behind the tablet is that you can read textbooks on it and take notes. It's interesting to note that the company behind the tablet won't say how many were ordered. At that price, I say it's not many.
The company also hasn't allowed any reviews of their tablet. I would personally buy nothing from a company not comfortable enough with its offering to allow reviewers to get hands on. The single screen version is a 14.1-inch tablet that is aimed at competing with the iPad. One of the cooler features of the Kno tablets is that users can highlight text and write in the margins of their books for notes. The single screen Kno is $600. I think I would hold out for a review of the things before ordering if I were interested.
Via Business Insider