Gvido uses a pair of e-ink screens to display sheet music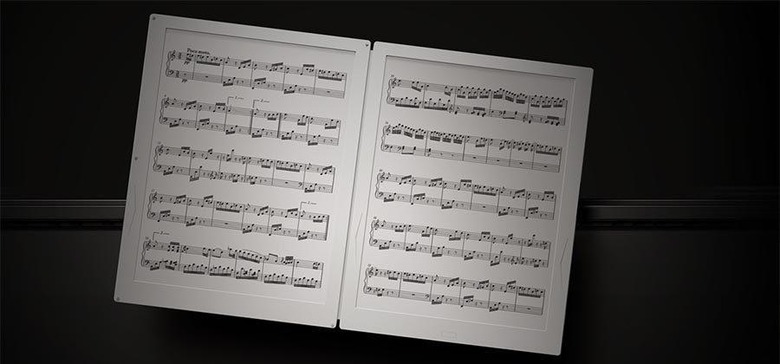 A new e-ink product has surfaced called Gvido, but it's not for novels. When closed, the device looks like a large, thin book. When opened, it reveals two cream-colored displays, both of which show sheet music for musicians. Much like the older Kindle devices, the musician merely pushed the right edge of the device to trigger a page refresh, replacing the two sheets of music with another two.
The device is altogether classy and stylish, merging together the best of both worlds — traditional sheet music with the convenience of digital, as well as displays that are easily read despite nearby lights. Each display measures 13.3-inches with a resolution of 1200 x 1600 dots and 16 levels of grey.
Other features include Wacom touch pen input, an electrostatic touch switch, and 8GB of internal memory, which can be expanded with a microSD card. There's a micro USB connector — it's not clear whether that is only for charging, or if it can also be used to transfer sheet music files. If wired connections aren't your thing, there's also 802.11a/b/g/n dual-band WiFi and Bluetooth 4.0.
The entire unit measures 480 x 310 x 5.9mm when open and weighs 650 grams. The device comes with an optional real leather cover from Somes Saddle company. What isn't clear at this point is how much Gvido will cost, nor when it will be made available for purchase. Considering it has two large displays, we can probably anticipate a hefty price.
SOURCE: The eBook Reader