Guidepoint Bluetooth hands free device with EMS and roadside assistance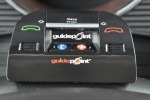 OnStar is a GM product that is offered on most of the vehicles the automotive giant sells and dials for help automatically in the event of an accident and it can provide GPS assistance to drivers. Drivers who don't own an OnStar equipped vehicle can now get similar service with the addition of a hands free Bluetooth device to their car.
The hands free device is called the Guidepoint Connect. It serves the hands free Bluetooth functions you expect and has some other built in features. The device can be fitted with an optional GPS tracker to provide location information to EMS in the even t of an accident and it can be used to find a stolen vehicle.
The only real catch to the EMS part of the device is that it can't dial automatically in the event of an accident; the driver has to activate the EMS function by pressing a button on the device. The system is designed to be mounted on the steering column and will be sold through electronics installers and new car dealers for $399 plus installation fees. E-Call service is included with the device and a year of Guidepoint Silver service is included as well.