Guess Brings Android Wear To Two Stylish Smartwatches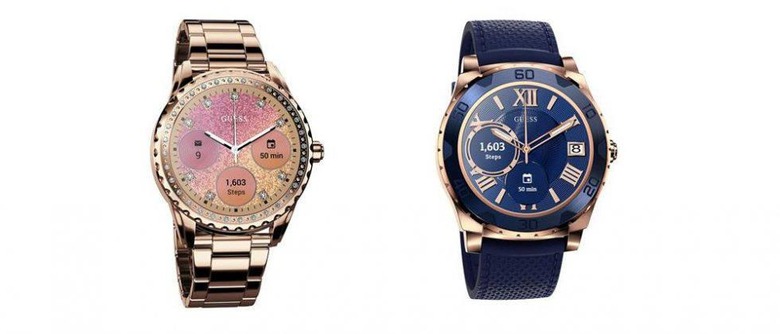 Guess Watches has taken the wraps off its new pair of Android Wear smartwatches, one styled for women and the other for men. These two watches will join the company's Connect lineup, giving consumers two new stylish options that, at first glance, don't at all look like smartwatches. The watches run Android Wear 2.0 and are powered by Qualcomm's Snapdragon Wear 2100.
The first spat of smartwatches to hit the market were attractive enough, but there's no mistaking them for ordinary time pieces. That trend very quickly gave away to more demur, traditional, and otherwise 'average' looking watches — ones with seemingly traditional watch faces, bands, and careful attention to design. Guess's new watches fall into that latter category.
These two new watches work with Android and iOS phones, and give consumers access to more than one hundred watch face options. The watches — called 'Guess guy' and 'Guess girl' — can also be customized via various strap options. The ladies' watch features a 41mm case and the men's watch features a 44mm case.
Guess says its wearable supports Smart Reply, and also has handwriting recognition and a keyboard. Users can swipe on the screen to navigate, and can also use speech and text. The company plans to launch the two new wearables as part of its upcoming Fall/Winter releases — prices haven't been revealed at this time.
SOURCE: Global Newswire