gScreen Prepares for the Future With Dual-Display Spacebooks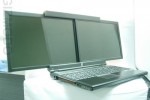 There is a notebook in here somewhere, we're sure of it. But, if we're going off the screen, or screens for that matter, we'd be a bit surprised to find one. gScreen has previewed their upcoming line of dual-screen Spacebook notebooks, according to the people over at Gizmodo. They're 15.4-inches of goodness, that utilize two full-sized screens that sit side-by-side when needed, or can be pushed together so the user can enjoy a single image. They look pretty much amazing, and the specs aren't anything to scoff at, either.
The chassis itself is built around a 15.4-inch design, but it's bigger in a lot of ways due to the sliding mechanisms needed for the screens movements, as well as the screens themselves. The notebooks will ship with Intel Core 2 Duo processors, 4GB or RAM and NVIDIA's GF900M GT graphic components. On the hard drive front, customers will have a choice of different 7,200 RPM HDDs, and battery sizes are going to be between the 6- and 9-cell kind.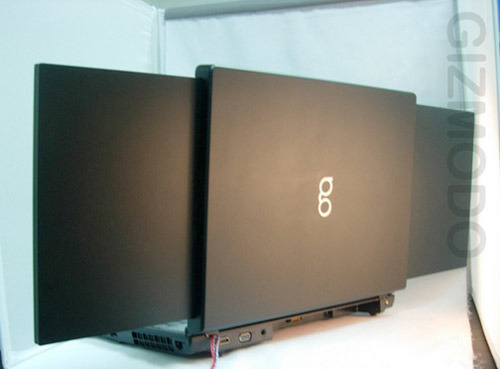 gSeries is hoping to have the first part of distribution set up for December, selling available units through Amazon.com and other online retailers. The company, which probably finds a lot of time to work on these amazing notebooks up there in Alaska, are also planning 13-, 16-, and 17-inch units. As for pricing, there isn't an official word on this, but gScreen founder Gordon Stewart is hoping to keep costs relatively low, as in the $3,000 benchmark area. So get those wallets ready folks.
[via Gizmodo]