Groupon's Updated Merchant Center Launched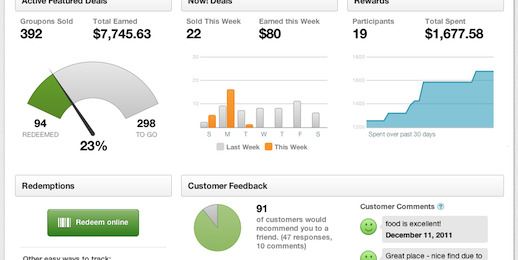 Groupon's merchants have been offering great deals to consumers since it's launch in 2008, but one question that has remained in the air surrounding Groupon is, how good is the website for the merchants. Since 2008 Groupon has expanded its merchant base from Chicago to more than 150 markets in North America and 100 markets in Europe, Asia and South America. Based on that information alone it seems Groupon is doing quite well. Lets go back and address the original question – is Groupon good for the businesses providing the deals?
In a study discussing how businesses fare with the use of Groupon and similar sites, some alarming statistics were presented. Only about 36% of people using the deal would spend above the deal amount. Even more alarming is that only 20% of consumers who used the deal would return for a full-priced purchase. So, more than half of the consumers visiting a business offering a deal would just use their coupon and not a penny more. And an even larger number of consumers wouldn't return to the business a second time. Groupon is trying to help the headache this has caused business owners with an updated Merchant Center.
Groupon's latest Merchant Center will allow businesses to track the real-time percentage of customers who would recommend the business to a friend and their comments. Since customer satisfaction is questioned based on the statistics of returning customers being extremely low, the new Merchant Center coupled with its deal statistics should give businesses more accurate information concerning deals, which will allow for the business to make any necessary changes.
[via TechCrunch]