Groove Music says goodbye as Microsoft partners with Spotify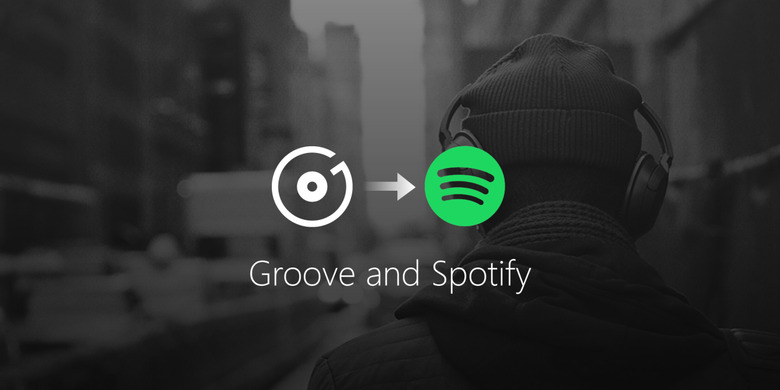 It's been quite some time since we've heard from Groove Music, and it turns out there's good reason for that. While Groove has gone without any significant updates for a while now, Microsoft has been hammering out a new partnership with Spotify. This, of course, means that Groove will soon be going the way of the Dodo, with Groove's current paying customers transitioned over to Spotify.
That's the silver lining for those who may prefer Groove to other streaming services: though Groove's tenure is coming it an end, anyone who is a Groove Music Pass subscriber will be able to move their music over to Spotify. This includes playlists as well, so you'll be able to pick up right where you've left off after Microsoft shuts down Groove for good.
Those of you who do have a Groove Music Pass will have a couple of months to decide what you want to do. The service won't be shutting down until December 31, 2017, after which date you won't be able to stream, purchase, or download music. You'll still be able to use the app for playback and management of your owned library, but given the proliferation of music streaming services these days, we're guessing a lot of those libraries will be tiny.
The ability to move your music over to Spotify hasn't gone live just yet, but it'll be available to Windows Insiders this week and will go into wider roll out next week. When it's live, you'll only need to launch the latest version of the app and click the "Move my music to Spotify" button you see in the pop-up alert. From there, log into your Spotify account and select "Move music" to migrate your library over.
You'll be able to move your music over to Spotify through "at least" January 31, 2018, and those of you who have purchased an annual Groove Music Pass will receive a prorated refund for any remaining subscription time beyond December 31. Microsoft has put together a rather in-depth FAQ that Groove Music subscribers can check for more information, including how to potentially net a 60-day subscription to Spotify for free. If you're a Groove Music Pass subscriber, be sure to check it out.