Griffin unveils MouthStick stylus for the disabled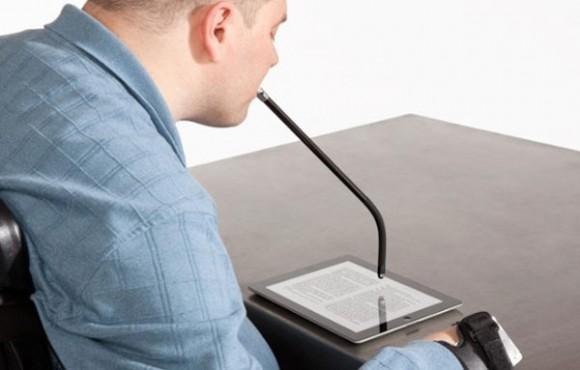 If you've ever been around anyone who suffered a serious injury to the spinal column as a result of an automobile crash or other accident, you know how difficult or impossible it can be for people battling these injuries to do the things most of us take for granted. While people with full mobility are able to quickly and easily flip the pages on their iPad or other tablet, not everyone can do that. For instance, a person with no control over their arms or limited control may not be able to use a tablet at all.
IPad accessory maker Griffin has announced a new accessory aimed at users of the iPad who have have no control over their limbs or very limited control. The accessory is called the MouthStick and it is a long, curved stylus that allows people to use head movements to control the tablet. The accessory is designed to be held in the mouth allowing people to flip pages and press icons on the screen of the tablet.
Griffin says that the MouthStylus was specifically engineered for people that have fine motor impairments and is designed to allow them to manipulate touch screens and buttons in comfort. The stylus can do more than operate touchscreen interfaces, Griffin also says that you can use it to hit keys on laptop keyboards and to work the Apple Magic Trackpad. The stylus consists of four different parts.
The part that goes in the mouth is made from food-grade stainless steel. The stainless steel is covered with BPA-and latex-free silicone rubber mouthpiece sleeves to protect the teeth. On the end of the stylus is a conductive silicone rubber tip. The body of the stylus is made from an adjustable aluminum gooseneck shaft. The MouthStick stylus will be available in Q2 for $29.99. Griffin will also offer replacement sleeves for the mouthpiece and replacement silicone rubber tips.
[via Griffin]