Griffin Moto TC Monster and Racer roll out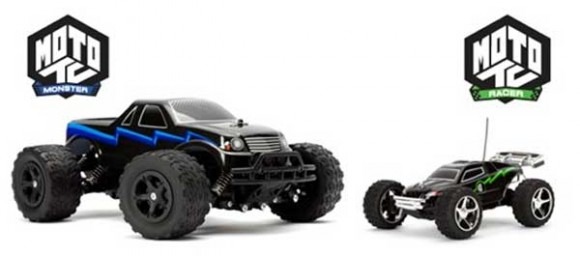 I'm of the opinion that it doesn't matter how old you are; remote-controlled toys like cars and trucks are still a lot of fun to play with. Griffin is a brand typically associated with accessories for Apple gadgets, but it also makes a few remote-controlled toys. Naturally, those toys tend to be controlled by Apple gadgets making them accessories of a sort. through
Griffin has announced a pair of new remote-controlled toys that are controlled by iOS devices running apps. The toys include the Moto TC Racer and the Moto TC Monster. The Monster is a remote-controlled monster truck with big wheels and a working suspension system. The Racer is a smaller racing buggy.
The Monster is available now for $59.99 and uses the Bluetooth connectivity of your Apple gadget for remote control. The truck can be steered using a virtual steering wheel on your Apple gadget or the using motion control and tilting your device. The control system also has a slide feature that allows you to slide your finger across the screen to steer the truck. The app also allows you to set up pre-configured tracks such as a figure 8 for the truck to follow.
The smaller Racer will be available in the middle of November for $29.99. It has an integrated RF transmitter and comes with an accessory that plugs into the headphone port of the iOS device. The vehicle can be controlled using a virtual steering wheel and throttle or with motion by tilting your device. The control app for both vehicles requires iOS 5.0 or later.