Grand Theft Auto: Vice City and Modern Combat 4: Zero Hour now available [UPDATE]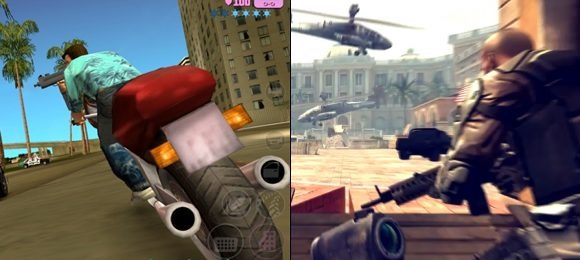 Right on the money, both Rockstar and Gameloft have released their respective games to the mobile market. Grand Theft Auto: Vice City and Modern Combat 4: Zero Hour are now available for purchasing and downloading in the iTunes App Store. While Modern Combat 4 is planned to be released on Android "shortly after" today, Vice City was actually planned to have a simultaneous launch. However, the Android version seems to be MIA for the time being.
Modern Combat 4 costs $6.99, which may seem like a steep price, but you can't really go wrong with one of the best first-person shooters on any mobile platform. Plus, it works on the iPhone, iPod Touch, and the iPad. Also if you didn't already know, the game comes with multiplayer, complete with leaderboards and over 20,000 weapon arrangements.
Grand Theft Auto: Vice City will cost you $4.99, the same price as Grand Theft Auto III when it launched not too long ago. As aforementioned, the Android version seems to be MIA. The Google Play store link shows up in Google search results, but clicking on it will lead to a 404. It'll probably only be a matter of time before it's fixed, so we'll update you once it goes live in the Google Play store.
UPDATE: Rockstar has issued a statement on the missing Android version of the game:
"We're aware that some users have attempted to download Vice City: 10th Anniversary Edition from the Google Play Store and have experienced validation errors. Just to be clear: the game is not available for Android devices just yet, and if you're seeing it listed on the Store then this is an error, and you shouldn't attempt to download it. We'll keep you up to date and let you know as soon as the game is live and available to purchase."
While Rockstar originally said that the game would be released on iOS and Android at the same time, it looks like that's no longer the case.
If you've played GTA: Vice City before, the mobile version will be very familiar to you, since it's essentially a port of the console and PC version, but with a few few enhancements implemented, including updated character models and lighting effects, as well as more precise firing and targeting options with weapons.
Download Modern Combat 4: Zero Hour and Grand Theft Auto: Vice City for iOS now.