GoPro reportedly interested in making their own drones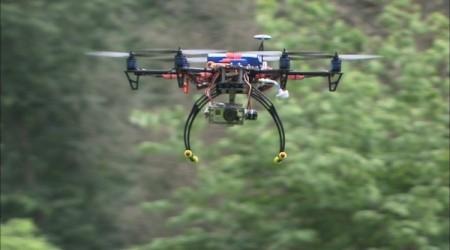 GoPro, the company that makes a series of action cameras meant to be strapped to your body as you jump off of very high things, is bringing a series of drones to the world, according to a new report. People "familiar with its plans" say GoPro is developing "multi-rotor helicopters" with their own hi-def cameras built-in. These drones will launch next year (late, so in time for holiday shopping), and retail for anywhere between $500 and $1,000.
It might be a natural step for GoPro to make. They can use an existing drone manufacturer as their ODM, then brand them as they see fit. The inclusion of GoPro cameras on drones is already a thing; many enthusiasts use GoPro for image capture from their drone.
GoPro may also be looking to diversify their efforts as an onslaught of competing hardware floods the market. Polaroid, Sony — and even HTC — all have small cameras meant for action photography. All of them give GoPro a run for their money, too, at least with the casual customer.
It comes at the right time for GoPro as a business, but they may face a rough road. A series of recent reports suggest flying a drone will become much harder soon, requiring a license for commercial use. The NTSB also recently said the FAA had the power to ground all drones at will.
For GoPro, that presents a series of potential hurdles for enthusiasts. Filming even the most homegrown of movies (which is a big market for GoPro) may require a special pilot's license. A blanket grounding is also possible, as the FAA takes a more watchful eye on drone activities. According to another recent report, a drone was flown near a plane, and it was believed to be purposeful.
GoPro is nonetheless enthusiastic about drone photography, saying users are making "jaw-dropping footage recorded from quadcopters". We'll just have to wait and see what GoPro thinks they can bring to the drone table, and hope the FAA doesn't shelve them in the interim.
Source: The Wall Street Journal