GoPro outs new HD Hero 960 wearable HD camcorder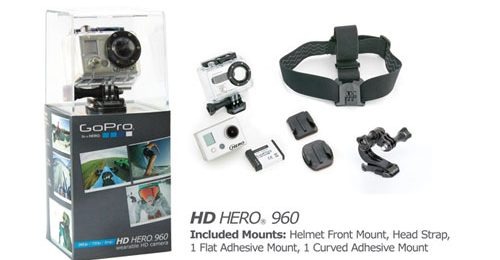 GoPro makes several different versions of wearable and vehicle mountable camcorders that are small and designed to record sports and driving action. I have one of the companies HD Motorsports Hero camcorders that I use for car reviews and the thing is fantastic considering how small it is and offers great video quality.
GoPro has announced a new addition to its line of cameras called the HD Hero 960. The camcorder is an entry-level version of the HD Hero camera that I have and offers the same sound and image quality of the other cameras in the line. The Hero 960 sells for $179.99 and can shoot video and still shots.
Most of the price cut comes from the fact that the camera has less mounting options included than other cameras in the line and the fact that it is not capable of 1080p recording. The highest resolution the camera supports is 1280 x 960, but 720p recording is possible and I can tell you from working with these cameras that for a manageable file size for uploading online, you won't want 1080p in most cases. The HeroBus expansion port is also missing from the 960 so you can't connect the BacPacs that offer an LCD or second battery to the new camera. The HD Hero 960 camera is available right now.