GoPro HERO3 Black And Silver Edition Cameras Unveiled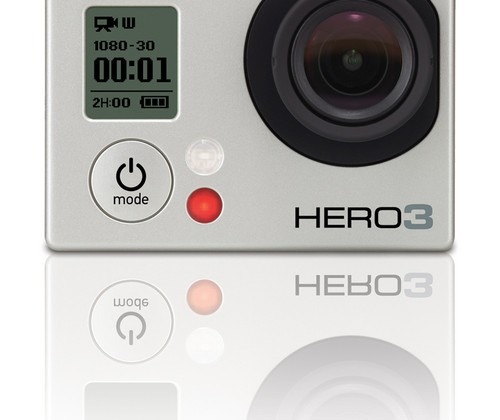 At a launch event in San Franciso, GoPro announced its new HERO3 Black and Silver edition HD cameras, the latest in its line of action cameras. The HERO3 models are smaller and lighter than previous models, and feature the iconic design that is quite unlike any other camera on the market. The GoPro website is presently displaying a countdown timer for when pre-orders can be placed, which starts at 12:01AM.
The GoPro HERO3 Black edition offers a variety of video recording settings: 2.7k Cinema at 30fps, 4k Cinema at 12fps, 1440p at 48fps, 1080p HD at 30fps, 960p HD at 100fps, 720p HD at 120fps, and 480p at 240fps. Still images are captured in 12MP with a 30fps burst mode. The camera is sports an f2.8 lens, a microSD card slot with support up to 64GB, a micro HDMI output port, and a USB 2.0 port. There's also a port for a composite A/V adapter and a 3.5mm stereo mic adapter, both of which are optional accessories.
The GoPro HERO3 Silver edition, designed specifically for recording action sports, has a waterproof housing for depths to 197 feet. The camera records video in 1080p at 30fps, 960p, 720p, and 480p. This model features an 11MP sensor, microSD card slot with support up to 64GB, a 6-element aspherical lens, a USB 2.0 port, and a micro HDMI port. Like the HERO3 Black edition, you can use the stereo mic adapter and composite adapter accessories.
The HERO3 cameras are equipped with built-in wifi, which includes a wifi remote with a transmission range of 600 feet. The Black edition is priced at $399, while the Silver edition is priced at $299. There's also a lower-end white edition, which is priced at $199, offering 5MP still images. Check out some images taken with the HERO3 in the gallery below.