Google's Voter Information Tool makes it easier to choose and vote come Election Day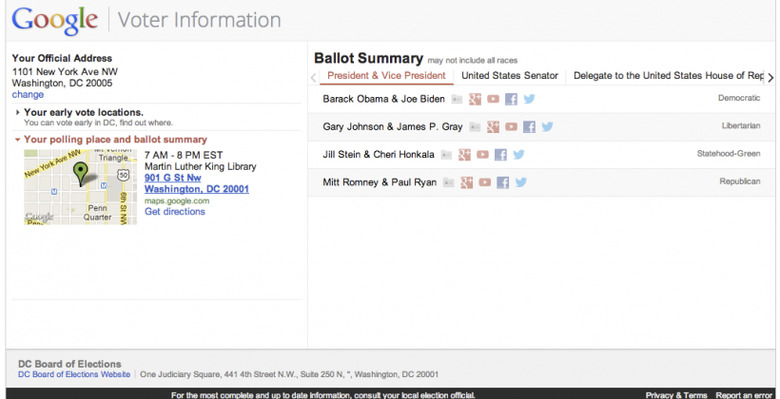 Election Day is quickly approaching, and if you're still undecided on who to vote for, or if you're not sure where to vote, Google will help you out. The search giant has launched what they call the Voter Information Tool. It will show you how to register to vote, where to vote, and what candidates are on your ballot.
Within Google's Voter Information Tool you can find social media links for all the candidates on the ballot, as well as helping you locate your polling place or early voting location if your city offers it. You can also instantly access YouTube's 2012 Election page, where you can watch videos on anything and everything related to the election.
The tool also makes it easier to research all kinds of information about the candidates including spending and fundraising plans, as well as their various views on the economy and how each candidate plans to run the country. Essentially, Google is aiming to make the tool a one-stop shop to find information about the election.
In an effort to reach as many people as possible, Google has partnered up with companies such as Foursquare and AT&T in order to spread the word about the tool. Election Day is a chaotic day — not only for poll workers and the candidates, but for regular voters as well. Google aims to make it easier for everyone come November 6.