Google's response to its €2.4bn EU fine is maximum passive-aggressive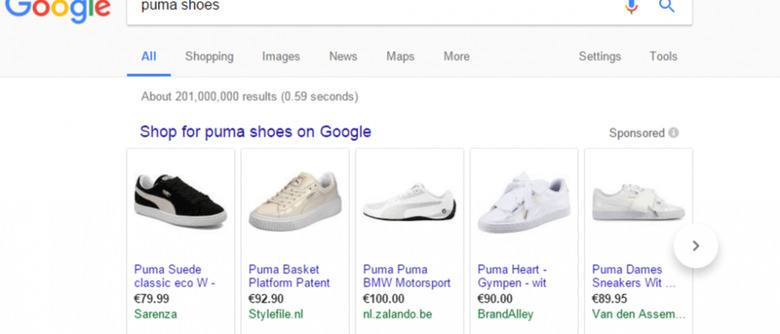 Google is finding itself in quite a bit of trouble with the European Commission this morning. The Commission has found that Google violated EU antitrust laws by giving search preference to its own comparison shopping service at the expense of its competitors. As a result, Google is going to have to pay a record fine that climbs into the billions.
Google has offered its comparison shopping service in some form since 2004, but the European Commission takes issue with Google's policies beginning in 2008. In a report published today, the Commission identifies two key problems with Google Shopping's implementation in the EU. Today's release states it plain: "Google has systematically given prominent placement to its own comparison shopping service," and "Google has demoted rival comparison shopping services in its search results."
Essentially, the Commission claims that Google has abused its search dominance to promote comparison shopping listings to the top of search results while ranking competing services lower down in the results. This, obviously, puts those competitors at a disadvantage because – as the Commission points out – the first 10 results in a Google Search tend to attract around 95% of the clicks, with the first result usually taking around 35% of the clicks all on its own.
The Commission looked at a lot of evidence to determine whether Google violated EU antitrust laws. That evidence includes an "extensive market investigation" that polled both customers and other businesses in markets where Google's dominance was called into question, as well as 5.2 terabytes of search results from Google. That translates to about 1.7 billion searches, so the EU certainly spent some time looking at this in-depth.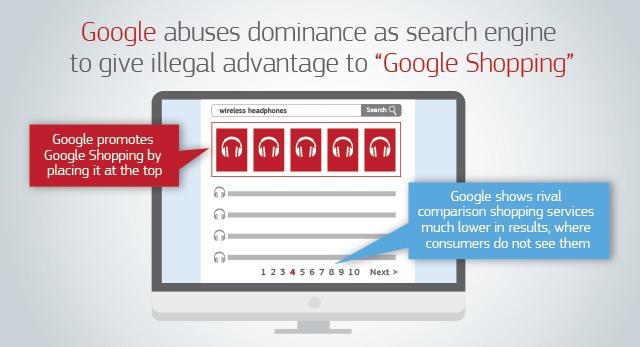 This has led the Commission to fine Google a whopping €2.42 billion. The Commission has also stated that Google has 90 days to begin giving equal treatment to competing comparison shopping services, or it may face additional daily fines as high as "5% of the average daily worldwide turnover of Alphabet," which certainly isn't chump change.
Google, understandably, is disappointed by the decision, taking to its Keyword blog to argue the decision. Google's SVP and General Counsel Kent Walker says that the company's goal with its top-listing pricing comparison is not only to give customers quick access to links, but also to put ads from companies that buy this space in front of users.
When it comes to the comparison shopping companies that want their sites listed more prominently, Google says that "people usually prefer links that take them directly to the products they want, not to websites where they have to repeat their searches." It also claims that "thousands" of smaller retailers in the EU use these top-tier listings to compete with larger companies like Amazon and eBay.
Google points to those two websites when tackling the question of why these other shopping comparison sites haven't grown. Google's defense, it would seem, is that it isn't the only company drawing traffic away from these sites. With Amazon and eBay, for instance, the argument is that consumers visit those sites directly to look up prices for the products they want to buy.
In the end, Google says that it plans to appeal this ruling, so don't expect this legal battle to end with this decision from the European Commission. At the moment, however, it isn't looking all that great for the big G. We'll follow this story as it develops further, so stay tuned.
SOURCE: European Commission