Google's Gboard brings search and GIFs to your iOS keyboard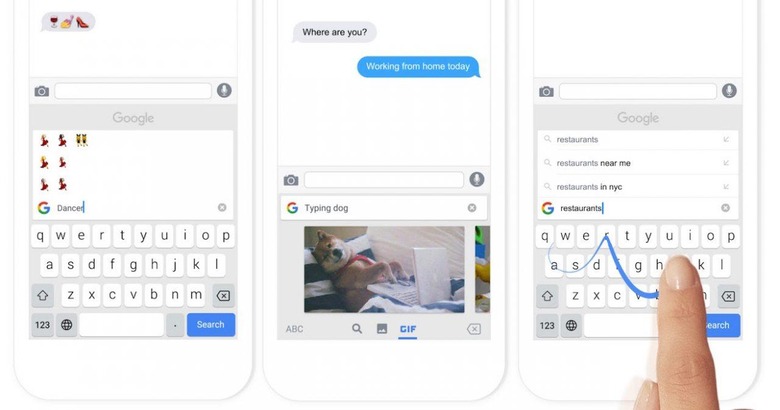 As the number of keyboard apps for iOS with GIF functionality seems to increase every day, Google isn't going to be left behind. The internet giant has rolled out a new iOS app today, fittingly called Gboard, that not only lets users insert emoji and GIFs, but also conduct Google web searches, all without needing to switch keyboards. Heck, that trifecta of features alone can even replace the need to switch apps.
Gboard makes it easy to find the emoji/image/GIF you're looking for, simply by describing the reaction you're going for. Standard stuff, honestly. But it's the web search feature where Google's keyboard really shines, proving its usefulness even for those who don't care for emojis or GIFs. "Anything you'd search on Google, you can search with Gboard," the Google Blog wrote.
Hitting the Google icon in the upper left corner of the keyboard opens a familiar web search bar. From there, users can search for whatever they'd like, but if you think about using Gboard in the context of text messaging or writing an email, it's the information you search for that you want to quickly insert. For example, search for a restaurant and you can paste the address into the text field with a tap. The same goes for news, weather, flight times, and more.
Gboard also features Glide Typing, which is basically Google's take on word tracing, where you can swipe your finger over letters to spell out words. The keyboard app is available on the US App Store now, with Google saying it will arrive in more countries soon.