Google's Asian fiber optic high-speed undersea cable goes online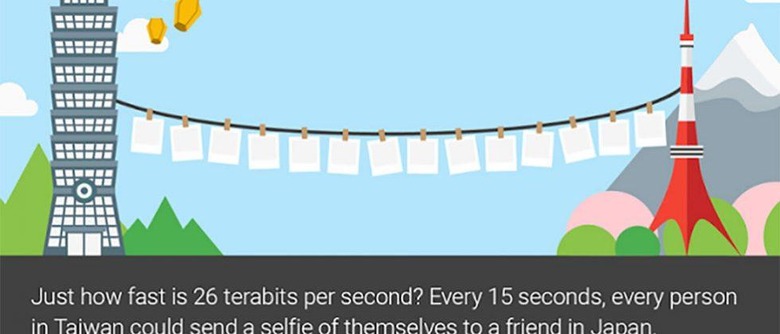 Google and a consortium of other companies that operate under the name FASTER Consortium have been working together to get some new undersea cables laid that will increase internet speeds between countries. In June, the FASTER Consortium announced that the cable linking the US West Coast and Japan was complete and ready to go into service. Now Google and its FASTER Consortium cohorts have announced another undersea fiber optic cable is ready to enter service.
This FASTER cable is a TRANS-Pacific link for Asia and connects Japan to Taiwan. Google operates its largest data center in Asia in Taiwan and the faster cable will allow for speed improvements in a suite of Google services from YouTube videos and email to BigQuery data results. The new Asian cable is able to transfer data at speeds up to 26 terabits per second.
Massive data speeds are a bit hard to wrap the mind around so Google has tried to put that 26 terabits per second number into a perspective we can understand. The new FASTER cable has enough bandwidth to support every person in Taiwan sending a selfie to a friend in Japan every 15 seconds. That would work out to 138 billion selfies per day.
Google says that users of its services might not notice the faster speeds right away, but the upgraded cable will allow services to load faster across the entire region. The cable will also improve reliability and consistency for the faster service. The FASTER Consortium did build the cable outside of tsunami zones to prevent network outages related to any natural disasters. The new undersea cable isn't all that Google plans to do to make its services faster for people in the region it serves, it is also building two new data centers in the region and has expanded its Singapore facility.
SOURCE: Google