Google Wallet leak shows off new physical credit cards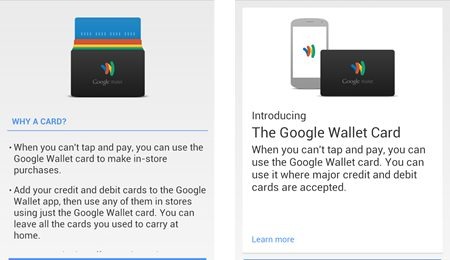 A person who happened to get a hold of an updated version of the Google Wallet app that has yet to be released discovered something interesting within the app. From the screenshots that were taken, it looks like Google will soon announce physical Google Wallet cards for Wallet users to use in case they can't use their phones to pay for things.
The physical Google Wallet card looks like it will work just like a regular credit card, and will be accepted anywhere that major credit cards are accepted. Plus, you'll be able to add any of your current credit cards to your Google Wallet account and use your Google Wallet card in place of one of your credit cards.
The Google Wallet card would obviously be for those situations where a specific store or restaurant doesn't accept tap to pay, or if you just don't feel like pulling out your phone to pay for something, the Google Wallet card is a great substitute. This way, you'll be able to leave all of your credit cards at home.
It also looks like you can order a Google Wallet card straight through the app and have it sent right to your doorstep, making it almost a painless process. Plus, the leaked app update also appears to support transit cards as well, which just adds icing to the cake even more. We're not sure when Google will roll out the update, nor when they plan on officially announcing Google Wallet cards, but from the looks of things, it should be fairly soon.
[via Android Police]