Google Wallet Comes To Gmail With Money Attachments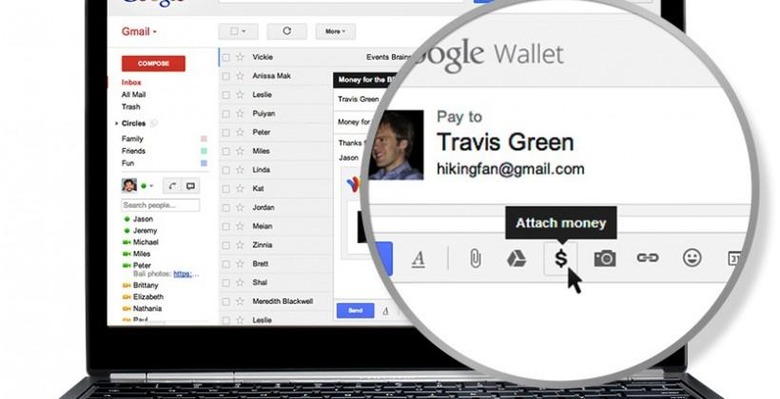 No longer are email attachments only limited to files. Today, Google announced that Gmail will be getting Google Wallet integration, where users will be able to send money to recipients by attaching a Google Wallet payment to an email. A new money icon will appear in the compose toolbar next to the Google Drive icon where you'll be able to attach money to your message, giving an all-new to "penny for your thoughts."
After clicking on the money symbol, all you have to do is enter in an amount and select the source from which the money will come from — it can even be a credit or debit card. After that, all you do is click "Attach" and then you'll be able to type an email message and send off your money through the internet pipes to your friend or family member.
The below shows the process in a bit more detail, as well as how you can receive money — you don't even need a Gmail address in order to receive a Google Wallet payment from someone with Gmail. If you receive a payment, all you do is click on "Claim Money" and you'll be able to boost your checking account that much more.
This is most likely Google's answer to competing with PayPal, which currently dominates the online money market. Google is looking to take away some of that market share with the ability to easily send payments to other people, something that PayPal users have been able to do for quite some time. However, it'll take a little more effort on Google's part to make a huge dent in PayPal. PayPal is integrated into hundreds of online retail websites, as well as eBay, so if Google wants to gain attention and take a chunk away from PayPal, they'll have to get Google Wallet integrated into other services.
Nonetheless, the Gmail attachment feature for Google Wallet will be rolling out within the next couple of months, and it'll only be available for users who are 18 years old or older. Also, each transaction sent through Gmail will still cost a 2.9% fee for each payment you send on through ($0.30 minimum).