Apparently, Nexus 4 owners have been having some issues keeping their new phone from flying off their desk and ending up on the floor. Because of the rear glass panel, the phone can slide around fairly easily depending on the type of surface it's on. However, Google redesigned the phone just slightly to prevent unnecessary sliding.
According to German site MobiFlip, the new Nexus 4 features two small nubs towards the bottom of the phone, where the glass meets the edge. These small nubs raise the back of the device just slightly off of the surface to prevent it from sliding around and possibly falling onto the floor causing any kind of damage.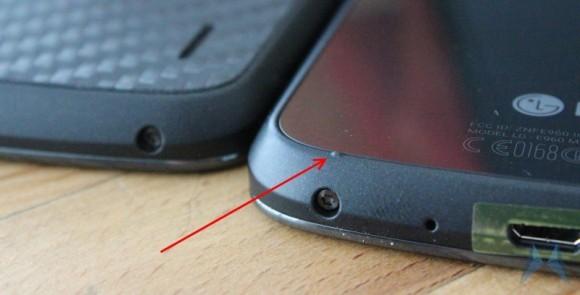 The small nubs also allow the sound coming out of the phone's speaker to be louder when the device is laid on its back. They're barely noticeable, but they can make a huge difference in several ways. On top of that, the camera's lens has been updated as well, with less area around the lens being exposed. We're not sure if this was because the old lens wasn't working as efficiently, or if it's just a simple design tweak that had nothing to do with the camera itself.
Overall, it's nice to see Google still focusing on the Nexus 4 and improving the hardware even though the phone has already been released. However, those who already own the phone are out of luck, and you'll have to resort to the bumper case to get a similar effect. However, for those still thinking about buying a Nexus 4, your unit may come with the new changes.
[via Android Central]