Google updates Blogger for iOS, adds iPhone 5 native support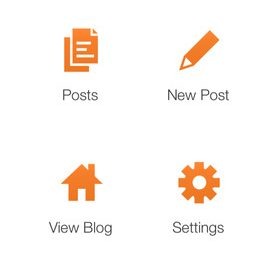 Google has released an update for its Blogger iOS app, which allows users to manage and update their blog from a mobile device, tossing in a few new features, as well as native support for the iPhone 5. The announcement comes via a short blurb on Blogger's Google+ page. Mobile iOS users can grab the updated app from iTunes or via their mobile device from the App Store.
As you can see from the screenshot gallery below, the app maintains the same rather sparse interface, complete with the signature orange and dark grey color scheme. This update brings with it three new features, including the additional post options of "Publish," "Cancel," and "Save as draft." Google Analytics have also been added, allowing "application usage statistics."
The Blogger for iOS app allows Blogger users to perform a variety of actions from their mobile Apple device that they would traditionally do with a browser, including adding labels to posts, adding geographic information, and viewing a list of both saved and published blog posts. Images can be embedded via either the camera or a saved image from the gallery. Users can also toggle between accounts and Blogger blogs.
The Blogger for iOS app is available in 58 languages, including Russian, Chinese, French, Estonian, Hungarian, Lithuanian, Malay, Norwegian, Persian, Polish, Thai, Turkish, Ukrainian, and Zulu. The app is compatible with the iPad, iPod Touch, and iPhone, and requires iOS 4.3 or higher. The download is 2.9MB in size. This is version 2.0.1.5.
[via Google+]