Google Trips travel app in testing with Local Guides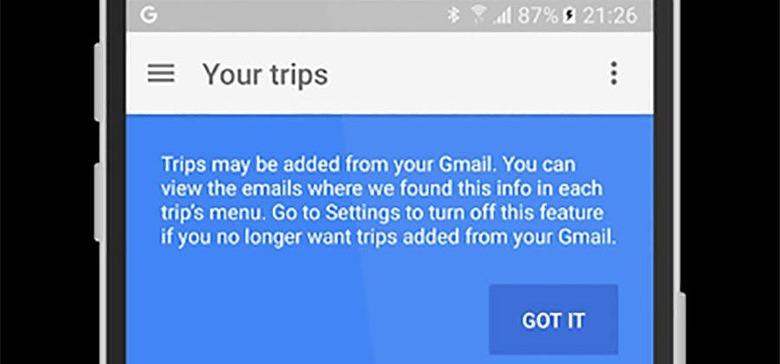 Word is that Google is currently testing a new app that is designed to help you keep an eye on all the trips that you have coming up. The app is called Google Trips and it will be an app for travelers, assuming it ever leaves the beta stage and heads for the masses. For now, the app is said to be in testing with Local Guides, folks who contribute a lot to Google Maps.
The app is designed to show all your upcoming trips with info on booked flights and hotel accommodations. The app also gives you a list of places to visit once you are at your destination and several different activities to do when you are there. It's sort of like a tour guide that sends you off to see the sites wherever you are going.
The app is automatic and requires the user to give it permission to troll Gmail for details on trips. That means what it is looking for are emails from airlines or booking services with flight details and messages with details on hotel stays. Google Inbox keeps track of similar data with the travel bundles feature.
Once Google Trips knows where you are going it also gives you information on public transport in the area in the form of busses, rental cars, and taxis. Google wants users of the app to supplement its data with information they glean while at the location. It supports feedback on just about any aspect of the trip and you can upload locations you visit and photos of things you did there. Google Trips is called a prototype in the welcome email received by one claimed tester. There is no indication for now if the app will move out of beta and when or if it will come to other users.
SOURCE: Android World