Google Trips app offers all your travel data with offline access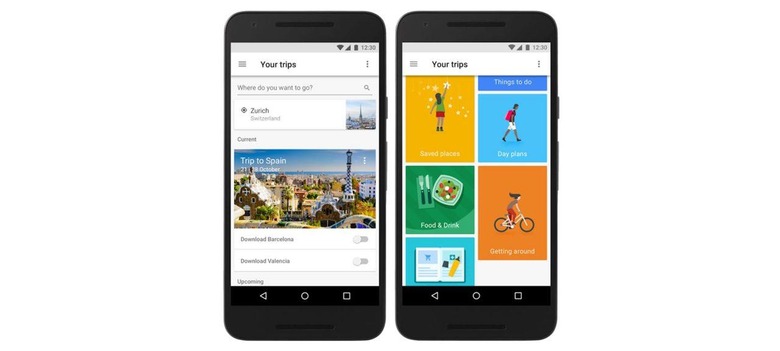 Google wants to make your next vacation a little less stressful, and it's doing so with a new personal tour guide called Google Trips. This app aggregates all the important data about your trip — things like reservation info, your plans for the day, places to eat, and similar — and keeps them all in an easy-to-access place. Even better (and quite necessary for international traveling) is an offline option that allows users to make all of the data available even when you don't have access to an Internet connection.
Google Trips includes various day plans and other automatically assembled things like itineraries for the top 200 city destinations around the globe. If you're visiting one of those places, Google Trips will present you with things like popular tourist attractions in the city, districts to visit, must-see items, and more, doing so based on data gathered from other travelers' past visits.
If you're not going to one of those cities — or just have your own plans — you can build your own trip itineraries with places you want to visit and more. This isn't all done manually, though — such formulas are done in conjunction with the power that is Google, making the entire process faster than if you were to do it all on paper. Google Trips presents map data, as well.
As for reservations, Google Trips app will keep track of all your various travel reservations: bus, train, and/or plane tickets, hotels reservations, restaurant reservations, and similar. If you use Gmail, these details will be automatically gathered from your inbox. The reservation details include things like hotel name and address, scheduled reservation times when applicable, and more.
Google Trips is available now for iOS and Android.
SOURCE: Google Official Blog