Google Trends gets real-time data, new homepage

Google has introduced real-time trends, allowing users to see what has caught the Internet's attention and how much interest some particular topic or event is generating in the moment. It uses data about the recent basketball game as an example, with the resulting data being broken down by team. This marks Google Trends' biggest expansion since 2012, and will help researchers, the general public, journalists and more track the popularity of topics and events as they happen. This includes minute by minute information rolling through in real time, and is based upon billions of searches on Google.
Google announced the real time trends today, saying with it users can use a date picker to select a date and time range to see what was interesting during that time. Trends presents data on where something was very popular, when the popularity started to climb and where it started to die down, and more.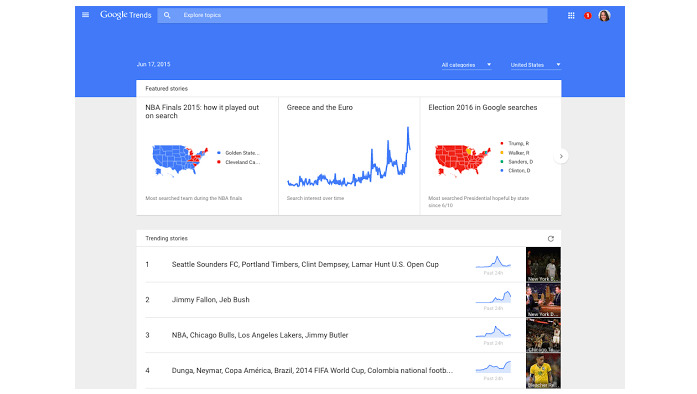 The Google Trends home page has been updated, as well, becoming what Google says is more "story-centric". Real time trending stories are listed and ranked, and data includes trends happening on Google News and YouTube in addition to Google Search. This new home page can be seen by users in 28 countries so far, with other regions seeing it later on this year.
Deeper insights are being hailed as another new feature, allowing for what Google says is more in depth research on topics. Likewise, Google has also done a bunch of work and aggregated some data on certain topics, presenting them to users as curated data sets.
SOURCE: Google Blog