Google Store lets you order from another country with a caveat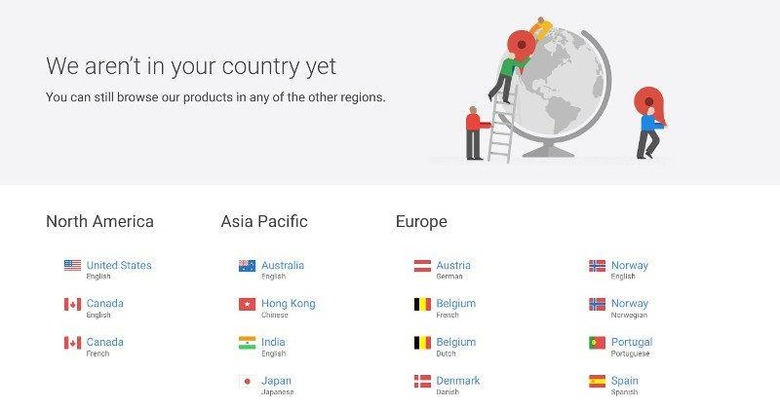 Google may have its own online device store but its availability has been fairly limited to a handful of countries. Even worse for those living outside those countries, there was no way for them to even place an order, requiring them to rely on the kindness and understanding of friends and relatives living there. That now changes with Google allowing anyone to place an order from anywhere in the world. There's just one catch. Google will still only ship those products to supported countries.
Android Police, who broke the story, initially thought it might have been a fluke. Apparently, however, it was a feature in the making. No, it's not actually designed to be a way for those outside markets like the US, Canada, Japan, Germany, and others, to buy stuff from the Google Store. Instead, it was envisioned more as a way for people to order Google gifts for their friends and family even if they're living elsewhere.
So here's how it works. When you visit Google Store from an unsupported country, you will now be presented with a page allowing you to browse the store of a different supported country. From there you will be able to order products from that country's store page, even if your Google account is from another (unsupported) country and using your own credit or debit card, regardless of country.
Now here's the catch. The shipping address you enter must be within any of the listed supported countries. As mentioned, this is meant more to be a way to order gifts for others, but it's not hard to see how this can be used (or abused) to buy items for themselves. It still requires that you have a friend or relative willing to receive the order and then ship it to you, but it at least won't inconvenience them that much anymore.
While the feature is now official, it remains to be seen how long it will last. Especially if it becomes something that people misuse. In an ideal world, Google will support even more countries, but, for now, the list is still limited to these countries:
• US
• Canada
• Australia
• Hong Kong
• India
• Japan
• South Korea
• New Zealand
• Taiwan
• Austria
• Belgium
• Denmark
• Finland
• France
• Germany
• Ireland
• Italy
• Netherlands
• Norway
• Portugal
• Spain
• Sweden
• Switzerland
• United Kingdom