Google sends out invites to October 29 Android event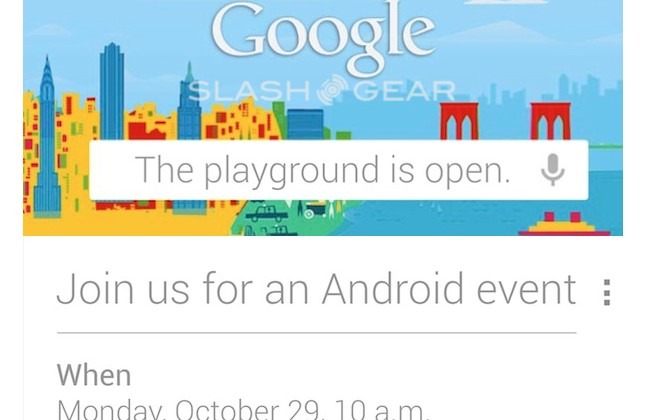 Well, what do we have here? Google has started sending out invites to an Android event that will be taking place in New York on Monday, October 29 – less than two weeks from now. The colorful invite tells us that "The playground is open," and even though it doesn't get into specifics about what we'll see at the event (of course it doesn't), we think we have a pretty good idea of what to expect.
That, ladies and gentlemen, would be the Nexus 4, which has been at the center of a lot of rumors lately. This new Nexus phone is said to be made by LG, and there have been plenty of rumors that claim the Nexus 4 will be very similar to the Optimus G. It looks like we'll be finding out if there's any truth to the various rumors come October 29.
The Nexus 4 may not be the only thing Google has up its sleeve. At this press event, it's possible that Google will also reveal the new 32GB Nexus 7, which is probably one of the worst-kept secrets in the industry at the moment. We've seen the 32GB Nexus 7 popping up all over the place lately, and this latest model appears primed to replace the 16GB variant. We're keeping our fingers crossed for a reveal during the event, but at this point, an announcement almost seems like a no-brainer.
Of course, there's no way to be sure of what will go down at this event until we're in our seats, but whatever Google announces during this press event, we know it's going to be big. We'll be there reporting from the event, so you'll be able to find out all you need to know right here at SlashGear. Who's ready to see some new Nexus devices?