Google rolls out Play Store update and app data sync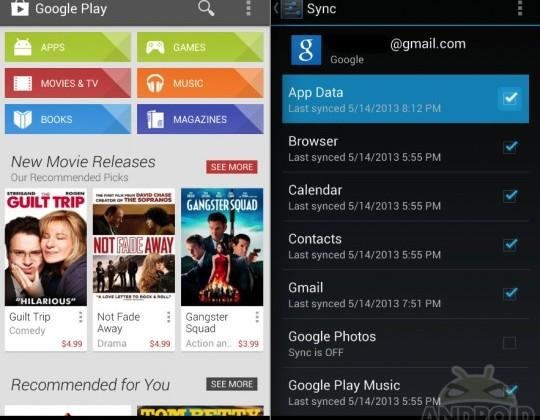 Google's I/O event might not start until tomorrow, but a few goodies have already made their way to the surface tonight, including an updated Google Play Store that is rolling out to users now. With the update comes a handful of changes that were both needed and a long time coming, and that aside there are a bunch of features added to the Google Play Services framework. We've got a rundown after the jump, as well as download links.
It was only last month that Google pushed out a redesigned Play Store, but that hasn't stopped it from rolling out additional changes. The 6-button layout has been switched up with some small user interface changes that makes it look better, such as the colors being boosted and some other changes you'll notice. This update takes the Play Store from version 4.0.27 to 4.1.6.
The menu text has been refined for consistency, and the uninstall/install buttons have been tweaked as well, with some extra space stuffed between them, fixing a common complaint heard in feedback due to users hitting uninstall when they meant to tap "Update." In additional, there's now a new option called "app data sync," which users will find under Google account sync options. This feature syncs and saves app data to the cloud.
More information will be learned at the event tomorrow, but in all likelihood it points at game saves and app settings (between devices, as well, though we don't know that for sure yet). The much rumored "Play Games" from Google will use this new feature for cloud saving of game data. Meanwhile, the Play Store has some other smallish user interface changes, such as an altered "redeem giftcard" popup and a switcheroo back to a white settings page.
There are a bunch of small changes, which you can check out for yourself after nabbing the app updates, which should be rolling your way tonight or in the morning. If you're impatient, you can hit up the download link we have below. Stay tuned, and we'll bring you more info tomorrow!
Download: Play Store 4.1.6
SOURCE: Android Community