Google Rolls Out Groupon Competition With 'Google Offers' Beta Launch In Select Cities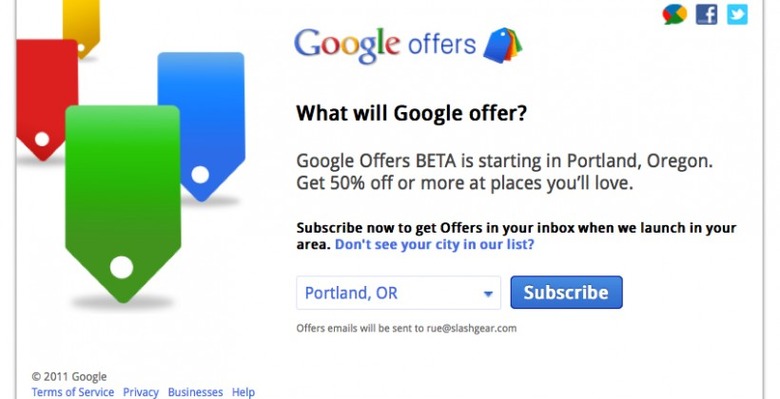 It was leaked back in January that Google was busy at work on a Groupon rival called Google Offers. At the time the service appeared almost identical but later leaked reincarnations suggested that Google may be taking a slightly different approach. Today, however, will be the first day that folks may get a more definitive look on exactly what Google has to offer. Their new coupon service gets an official beta launch today starting in Portland with San Francisco and New York to follow.
Although, folks from any of the select three cities can start signing up today, they may not receive any coupons via email just yet. The public beta-testing is limited to Portland for now. The sign-up page doesn't offer up much more information on the service except that you will get discounts of "50% or more off of the places you'll love." This is very much along the same vein as Groupon's discount model and sense of discovery.
However, the service is likely to incorporate the NFC-based Google Places program. It's rather interesting that Portland is also the first city that Google issued its NFC chips for businesses participating in Google Places. Google Offers could be tied in such that users can swipe their cellphones at the cash register and receive their daily deal coupon.
The video below is a teaser that again answers no questions about Google Offers but sure brightens your day with cheery music.
[via Mashable]