Google reveals 2016 Play Award winners for design, innovation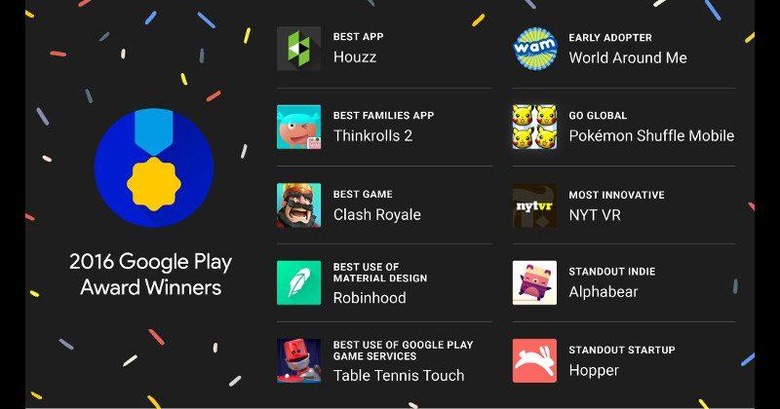 There are literally thousands of apps and games available in the Google Play Store. Google's more open and less restrictive policies invites innovation, experimentation, and even risk. But it also sometimes lets in imitation, laxity, and even malice. So it is good that once in a while, Google pays tributes to those apps that blaze a trail in terms of innovation and design, giving users the best Android mobile experience, whether for free or for a bit of cash. Introducing this year's winners of the Google Play Awards.
As mentioned, there are a ton of apps and games to sift through, but a few do stand out from the crowd. Google has picked 10, each from a different category, ranging from games to productivity.
Game developers, start tearing your hair out. This year's Best Game award goes to Clash Royale. That is hardly surprising given the game is made by Supercell, creators of the loved and loathed Clash of Clans that has become a worldwide phenomenon. Clash Royale takes that same winning formula and puts it in a medieval setting. Judging by how fast it reached 1 million downloads after launching, you can already guess why it is this year's game to beat.
For the past 12 months, we've seen a lot of games, especially from Japan, make their international debut. And when it comes to those kinds of games, its hard to deny the lure of Pokemon. No, this isn't yet the Pokemon GO all Pokemaniacs are drooling over. Still, Pokemon Shuffle was awarded this year's Go Global title. After all, who could resist the call of (mostly) cute monsters and the tried and true formula of three-in-a-row puzzle games.
Mobile games these days are no longer the "play and then drop" games of yesteryears. There are some social aspects to them and even gamification elements like achievements (gamifying games?). Implementing those on your own is no easy task. Luckily, Google provides its Play Game Services to help with that. And of the myriad of games in the store, Table Tennis Touch was voted to have the Best use of Google Play Game Services. The game offers both single player and multi player modes to embrace all sorts of players, and luckily for both developers and players, it uses a standard Play Game Services to make that flawless.
Not all app and game developers have the luck to work in big studios like Supercell or The Pokemon Company. Some have to try out their luck making their wares sometimes in garages, though mostly in their bedrooms. Game development can be rewarding, but it's not all fun and smiles. So it is quite encouraging with Standout Indie games are recognized for ingenious design, superb implementation, and hard work. This year, Alphabear takes the cake with its unconventional mix of Scrabble, puzzle games, and well, bears.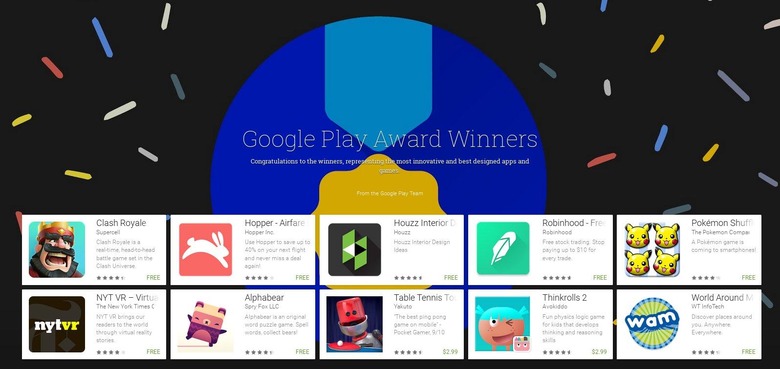 Moving away from the games a bit, we venture into some serious business with Android apps. This year's Best App award goes to Houzz for its easy to use interface, minimalistic style, and beautiful design. Which is all very appropriate considering it's an interior design app that lets you find inspiration in others' design ideas or make your own.
Speaking of design, there is of course a spot for Google' favorite design topic, Material Design. Despite years in the wild, some apps still haven't done it right, sometimes not at all. Now they can just take a look at the Robinhood app and learn from the app with the Best Use of Material Design. Not everyone is probably going to need a Stock Trading app like it, but now it will be useful for more than just that purpose.
Some might view those apps are more traditional and less exciting. That's not always a bad thing because they get things done with little distraction or obstacle. But some do want their apps with a bit of flair, some pizzazz, some adventure. That is why Google is naming the NYT VR as the Most Innovative in the past 12 months. The New York Times app has embraced the new virtual reality trend in order to give its readers a more in-depth, immersive experience. News has become a lot more personal.
It isn't the only one in the synthetic reality segment either. WAM, Short for "World Around Me", has been duly noted for being an Early Adopter. In this case, it has jumped on the Augmented Reality wagon to inform users of interesting areas, establishments, and even directions. With a coverage of over 200 countries, WAM will ensure you won't get lost or bored in your next trip.
As with games, some app developers have to start from scratch to find their place in the highly competitive app market. It means a lot for these smaller, younger companies when they get acknowledge for their product or their ideas. Hopper is definitely getting that special treatment now that it has been named as the Standout Startup in the 2016 Google Play Awards. There are many travel and flight apps around, but Hopper is a bit more psychic. It actually predicts and lets you know when is the best time to buy that plane ticket on the cheap. Of course, it lets you easily and quickly book that fight from the app as well.
Not all apps are serious business, but not all games are suitable for younger audiences. Families and kids will always have a special place in Google's heart, so it has a special Best Families App category for parents and kids to look up to. This year, that spot goes to Thinkrolls 2, a game for kids ages 3 to 9 that is of course both entertaining and educational.
There are hundreds upon hundreds of apps in Google Play Store, and some might say there might be too much. These top 10 apps for 2016 at least offer a metric to judge other apps in how they too can offer an Android app experience worth being proud of.