Google quietly removes "Google Now" references in Search app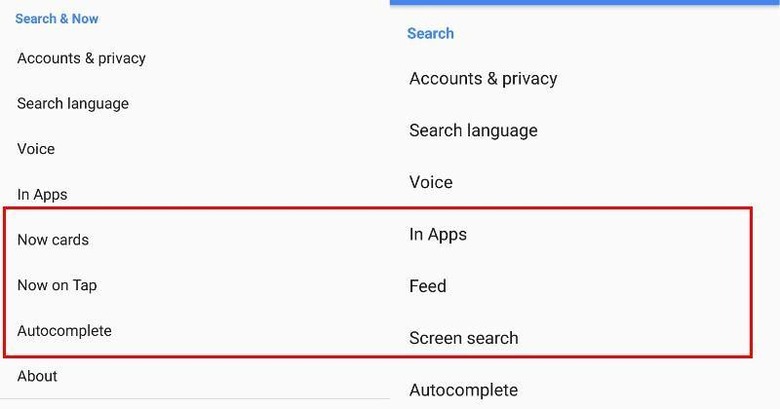 Let the conspiracy theories roll. In an investigation done on the still rolling update to the Google Search Android app, Android Police discovered that almost all but one publicly visible reference to Google Now has been removed, replaced instead by descriptions of their corresponding functionality. Given how heated the personal digital assistant competition has been, it is probably not the case that Google is bowing out. Instead, it could simply be paving the way for a "re-launch" under the upcoming Google Assistant heading.
"Now cards" as now simply called "Feeds" while "Now on Tap" is "Screen search". Admittedly, these new names describe their features better than the older ones. While Google Now is ultimately about presenting information that is relevant to the user "now", it has also become synonymous to Google's voice activated search assistant, which probably didn't make much sense. Now on Tap is even more vague and seemed to simply hang on Now through association.
It would, indeed, make more sense for Google to retire the Google Now brand in favor of a Google Assistant moniker, which goes in line with the usual trend these days to make such functionality more "personable". Although Google Assistant has yet to be launched, in theory it already has some overlap with Google Now as far as voice searches and actions are concerned.
This new direction could very well be unveiled next month at Google's October 4 event. Although expected to be about the Pixel and Pixel XL smartphones, it could also shine the spotlight on Google Assistant and Search. Google's official invite, with the use of the "OK, Google" voice trigger and a morphing search bar do both hint at that possibility.
There might also be an off-chance that the Pixel smartphones will, in fact, highlight this particular feature, which would put Google Search, perhaps even Chrome, front and center, with Android receding into the background a bit.