Google Q2 Earnings Report Blows Past Expectations With $9 Billion Revenue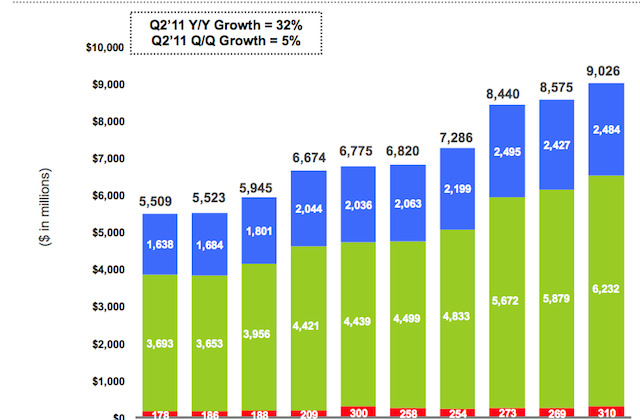 Google released their Q2 2011 earnings numbers today with results that are blowing past Wall Street expectations across the board. The search giant had a slightly disappointing Q1, but looks to be back on track now with just over $9 billion in revenue this last quarter, which beats the expectation of $8.6 billion. The revenue growth is also a 32% jump from the same quarter last year.
The top performer was Google-owned sites, which generated $6.23 billion or about 69% of total revenue and represents a 39% increase over the same quarter last year. Its Adsense network revenue had increased to $2.48 billion, representing 28% of total revenue and a 20% increase from the same quarter last year.
However, Google admits that although the paid click numbers were up 18 percent from a year ago, they are actually down 2 percent from the previous quarter. Operating costs also increased to become 33% of revenues with Google now employing 28,768 full-time employees.
But the company has plenty of cash stockpiled along with short term investments that are now worth $39 billion. It's stock prices have also soared up 12.3% to $594.50 in after hours trading.
[via TheNextWeb]