Google Play Family Library arrives with app and media sharing
After hearing about Google's plan to launch a family sharing feature for Google Play earlier in the month, the company announced today that it has finally gone live. Google Play has officially rolled out Family Library, which allows families of up to six people to share purchases across their devices. Families can share any eligible purchase with one another, be it an app, game, book, TV show, or movie.
Even better is that Google isn't charging an extra sign up fee to take advantage of Family Library, and better than that is the fact this new feature comes with some level of iOS and web compatibility. Though Android apps and games can't be played on an iOS device or the web (that part should be obvious), TV show, movie, and book purchases will be available to watch or read across all three platforms.
Family Library will come with a number of restrictions parents can put in place if they have young children, as it allows parents to approve all of the purchases made by members of the family before they go through. When you sign up for Family Library, you'll select a card that all purchases will be charged to, but family members are able to charge their purchases to their own cards at any time.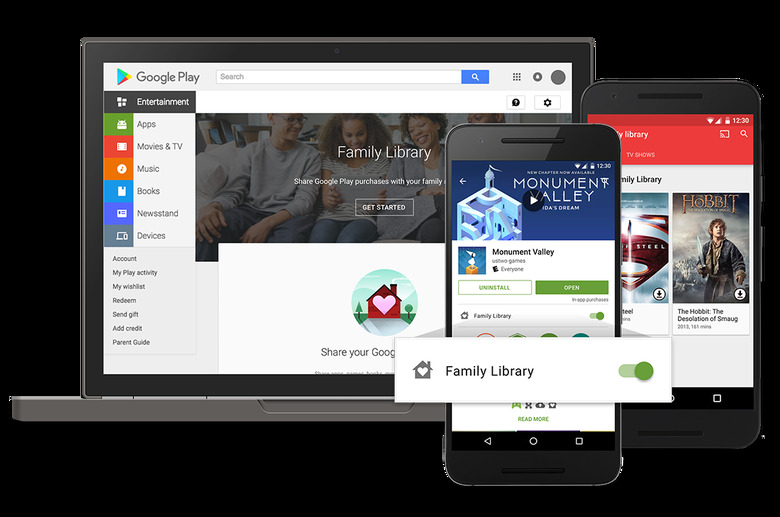 Users will also be able to determine what is shared with the family and what's kept private, so if you don't want the other members of your family to know that you purchased the 2002 classic Air Bud: Seventh Inning Fetch, Google has your back.
In addition to launching Google Play Family Library, Google also announced that it's bringing the Google Play Music family plan to four new regions: Italy, New Zealand, Mexico, and Ireland. The service, which functions much in the same way as Family Library but gives six people access to Google Music All Access for $14.99 a month, will be going live to users in those regions over the next few days, so keep your eyes peeled for an invitation to sign up.
SOURCE: Official Google Blog