Google Play app downloads to surpass iOS by October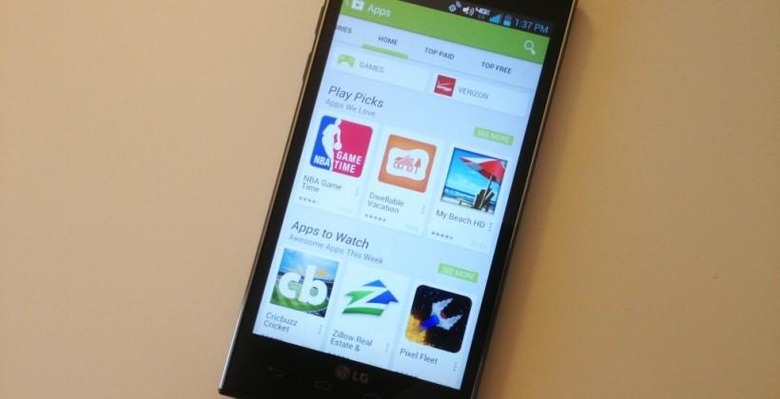 While Apple recently boasted surpassing 50 billion app downloads, the Google Play store isn't that far behind it seems, and at the rate that Google Play downloads are at, it's said that Android app downloads will overtake iOS app downloads this year, possibly as soon as October, according to a report.The Telegraph says that Google Play is currently seeing over 500 million more app downloads per month than the iTunes App Store, which means that total app downloads for Android could surpass iOS by October if the numbers continue at that rate, but it seems no matter when exactly the overtake will happen, 2013 will most likely be the year that Android apps surpass iOS apps.
Of course, this could have something to do with the larger number of Android devices that have been activated. Android is now at 900 million total devices that have been activated, while iOS is at 600 million. Even with a lower apps-per-device figure, Android still has the steam to overtake iOS app downloads at some point this year.
Based on recent numbers of both the iTunes App Store and Google Play store, Android is approximately two billion app downloads behind iTunes at 48 billion total app downloads since the Google Play store's conception. It's said that around two billion iOS apps are downloaded every months, while Android gets 2.5 billion app downloads per month.
Asymco analyst Horace Dediu says that "the total downloads/install base are currently 83 apps per iOS device sold and 53 apps per Android device activation," meaning that "the sheer weight of Android units will generate more downloads, but on a per-device basis, the iOS devices do seem to consume more apps, and the gap is not narrowing."
SOURCE: The Telegraph