Google pay TV greenlighted in Kansas City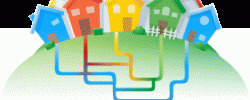 Google's ambitious project to enter the competitive pay TV market has just passed the first of its many hurdles it must overcome. The search giant was granted approval from the Missouri Public Service Commission to build a new network and infrastructure in Kansas City. The company plans to offer service in both Kansas City, Missouri and Kansas City, Kansas.
The Kansas authorities are still in the process of going over the request. It is in that area that Google began deploying a fiber optic network, and it's the only area that anyone at Google is even talking about when it comes to pay TV right now. Assumedly Google would want to expand if things initially work out there. But there is still a long process before anyone will be calling their cable company and saying they want to disconnect their service so they can switch to Google.
To delve much further into discussions about this now would be an exercise in speculation. Clearly, though, if there's a company on this planet that has proven it can take on the establishment and win, and provide a more pleasant experience for consumers all around, it's Google. To enter this market would be one of its most arduous tasks to date, but we'd love to see it try.
[via Digital TV Europe]