Google Pay gives Android Pay a new wallet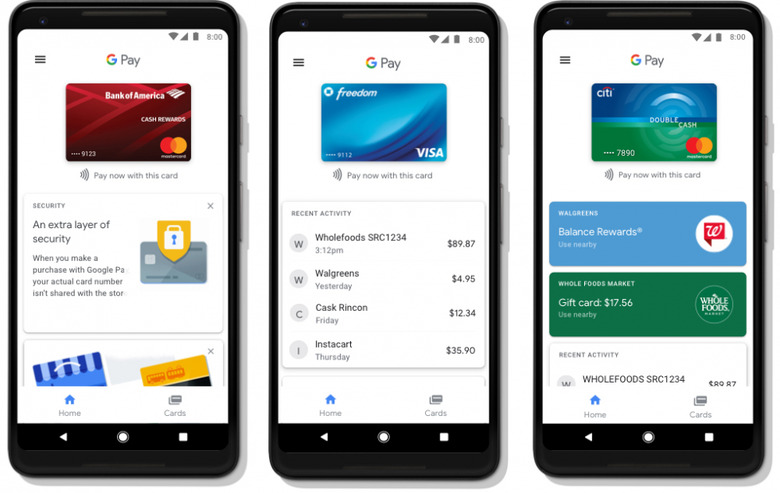 A little over a month ago, Google revealed its plans to unify all of its different payment services under one name: Google Pay. Today, we're seeing the end result of those efforts, as the new Google Pay app has officially launched on the Play Store. Say goodbye to Android Pay, because mention of it has been wiped from the Play Store and – once you update the app – from your phone as well.
There's more to this update than just the new name, though. Over on The Keyword, Google explains some of the new features that are launching alongside Google Pay. Some of those new features include a redesigned Home screen that's meant to give you more information at a glance, such as recent purchases, nearby stores, and details about any rewards you may have earned.
Google Pay seems to be doing away with the "Google Wallet" moniker as well, now placing your debit, credit, loyalty, and gift cards in – surprise! – the Cards tab. The Cards tab will also allow you to store transit passes, thereby letting you to simply scan your phone at the turnstile and walk right through. Unfortunately, support for transit passes is limited to just Kiev, London, and Portland for now, but Google promises that more cities will come online shortly.
As with Android Pay, the transactions you make using Google Pay are secure, as it won't share your actual payment info with merchants. Google plans to implement Google Pay everywhere it can, be it Android, Chrome, or YouTube, so one of the benefits of unifying everything under the Google Pay umbrella is that your payment information will follow you as you jump from platform to platform.
In the end, this is probably a good move for Google. If it wants to have a ubiquitous payment service that's available on as many platforms as possible, moving away from the Android Pay name makes a lot of sense, and brings it more in line with competitors like Apple Pay and Samsung Pay. It probably won't be long before we hear more about Google Pay, so stay tuned for that.