Google patent app reveals Fiber installation plans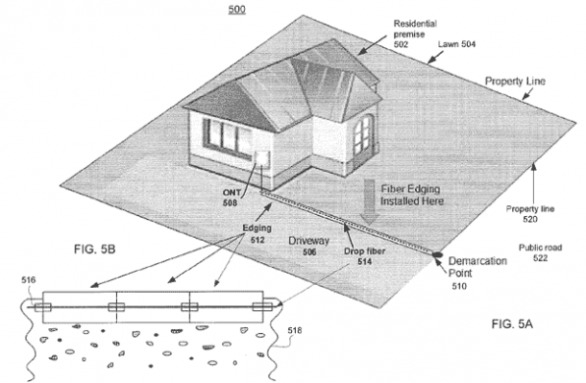 A Google patent application surfaced today, revealing the company's plans for lowering the cost and speeding up the deployment of its Google Fiber broadband network. The patent filing illustrates the use of a flat and flexible housing to carry the fiber-optic lines to houses. The idea also aims to reduce the environmental impact of installing the network.
Google has chosen Kansas City as its first trial city for Google Fiber, an ultra-fast 1-gigabit fiber optic broadband network that will provide internet connection speeds 100 times faster than current average connection speeds. Google is on track to deploy the new broadband network in Kansas City later this year.
The use of a flat, flexible molding strip means less need for digging, which in turn produces less damage to property and the environment. The molding can run along driveways, along a crack, pressed into the ground or buried in a shallow trench cut in the ground. This method can significantly reduce the amount of time and cost required for deployment.
At MWC 2012, Google chairman Eric Schmidt said that he envisions Google Fiber in almost every city by 2020. Schmidt also expressed sympathy for network operators as many of Google's service use up a lot of bandwidth while operators struggle with bandwidth limitations, government regulations, and the inability to raise prices or charge services such as YouTube for the usage. Schmidt seems to be suggesting this as part of the reason Google is pursuing the build out of its own infrastructure, which will also be an enabler for the company's other services.
[via CNET]