Google NYC pop-up store is giving away tiny Pixel sweaters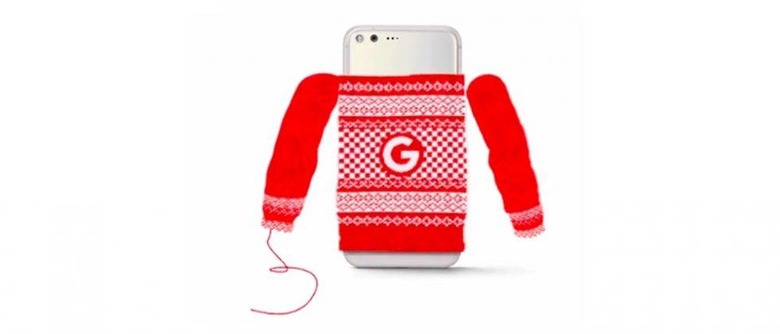 There's a pop-up Made by Google store in New York City at the moment, and it is giving Pixel owners little knitted holiday sweaters...for their phones. The sweaters look like every other holiday sweater, except perhaps for the large G knitted in the middle, but they're miniature size. Slip your phone inside and make it feel special in an ugly-holiday-sweater sort of way.
The pop-up store is located in NYC's SoHo neighborhood on Mercer Street. It's too late to visit today, but you can head over tomorrow starting at noon (running through 6PM) for your chance to get the Pixel sweater or one of a couple other goodies. Of course, you'll need a Pixel to do so.
It's sweater weather in NYC. Follow us live @Google on Snapchat to get knit at our #pixelsweater pop-up. ❄️ pic.twitter.com/X4v2o3PY2u

— Google (@Google) December 16, 2016
It seems you'll need to show up with your Google Pixel phone, at which point you get to spin a prize wheel. Depending on the wheel's ultimate resting point, you get either one of the small Pixel sweaters, a full-size knitted sweater to wear yourself, or a somewhat anti-climatic cookie.
Some lucky individuals, though, will win a Pixel handset itself, or may even win more than one item, or it seems, maybe even all of them. Though you probably shouldn't get your hopes up about that, it is a fun way to spend the afternoon, so go check it out if you happen to be in SoHo. The event will be lasting through December 23. You can find photos from the pop up store on Twitter here.
SOURCE: Android Police