Google Nexus tablet specs and render leak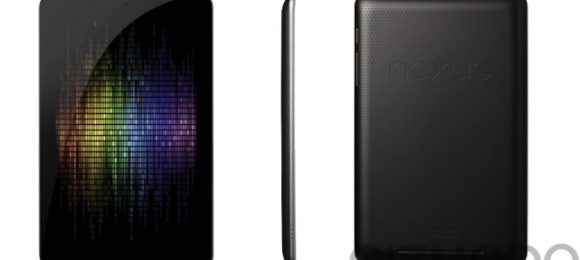 Rumors have indicated that Google is set to launch an affordable 7-inch tablet at Google I/O, and with the event just days away, some last minute leaks are starting to hit the internet. Gizmodo Australia has their hands on what's believed to be an official render and spec sheet for Google's Nexus tablet thanks to leaked training materials. Everything seems to line up with previous rumors, and the tablet is said to be running the next version of Android, Jelly Bean.
The specs aren't too far off what rumors have indicated in the past. The 7-inch IPS display will have a resolution of 1280x800, with the tablet itself powered by NVIDIA's Tegra 3 quad-core processor clocked at 1.3Ghz. 1GB of RAM is also onboard, and there will be two storage options for the tablet: 8GB and 16GB. A 1.2-megapixel front-facing camera has made the grade, and battery life is rated at 8 hours.
In addition, there will be support for both NFC and Google Wallet, plus Android Beam. The documents handed to Gizmodo Australia indicate that the Nexus tablet will be the first Android device to run Jelly Bean, although the version number hasn't been confirmed. As for pricing, the 8GB version is said to cost AUS $199 (~$199) while the 16GB model will be AUS $249 (~$249), and both are expected to ship in Australia sometime in July.
Everything seems to fall in line with previous rumors, along with NVIDIA's "Kai" strategy, aimed at bringing Tegra 3 technologies and applying them to $199 tablet devices. A 7-inch tablet with very similar specs was spotted at CES and hasn't been heard from since, prompting rumors that the manufacturer was courted by Google to use that device as the basis for the Nexus tablet. If there is indeed a Nexus tablet on the cards, it's expected to be unveiled at Google I/O which kicks off on June 27th. We'll be there live at the event bringing you full coverage, so make sure your browser is locked on SlashGear.
[via Android Central]