Google, Microsoft call truce on patent squabbles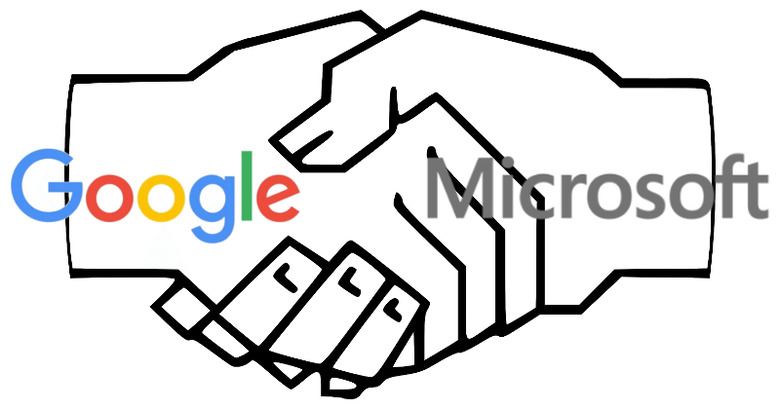 It seems that finally, the tech industry is waking up to realize that patent litigation isn't exactly the best way to move forward. We've heard of companies putting down their arms in favor of more amicable resolutions, and now two of the industry's largest names are doing likewise. Microsoft and Google jointly announced that they are ceasing all patent litigation against each other, especially those revolving around Motorola Mobility. In addition, the tech giants have announced willingness to cooperate on patent matters, thought not exactly sharing their portfolios.
Originally intended to encourage innovation and invention, patents, especially software ones, have become weapons of litigation brandished both by legitimate owners and some licensing firms called "trolls". They have become tools for lawsuits and counter lawsuits and used as bargaining chips in unsavory situations. Such was the case between Microsoft and Motorola, a headache that Google inherited when it bought the latter.
In 2010, Microsoft filed a lawsuit against Motorola over a breach of Motorola's pledge to fairly license its patents, particularly those that Microsoft uses on its Xbox. An appeals court would find Motorola guilty of such behavior. Microsoft then moved to have Motorola's phones banned in the US due to its use of Microsoft's ActiveSync feature. Again, the law sided with Microsoft though no ban has actually been implemented. Ever since then, Google, who then acquired Motorola's mobile business, and Microsoft has been at odds over patents used in Android devices.
Today, however, the companies take a different tune. Without giving out too much details, the two have proclaimed that they are dismissing all pending patent lawsuits against each other, including those involving Motorola, which Google has already sold to Lenovo. There will undoubtedly be some exchange of money involved and maybe even some patent exchange.
Perhaps more importantly, the two have also agreed to work together in other patent matters. Lately, that has mostly meant banding together to fight patent trolls, companies that do not make products but buy patents for the sole purpose of suing others. The two are noted to also be actively working in the EU to make sure that the oft criticized patent situation in the US doesn't infect that region as well.
SOURCE: Bloomberg